The Adult Choir rehearses weekly. Members of the Adult Choir can choose to sing at either the 9:30 am or 11:30 am mass on Sunday mornings. Instrumentalists are encouraged to contact the director to find out how they can contribute their talent to the music ministry.
Membership
Any registered adult of the parish.
Choir Roster
The Choir Roster is now maintained exclusively in the at  St. Andrew Connect: Parishioner Sign-In.
Enter your log-in information, then click on "Groups." The group(s) you belong to will be displayed, including the Choir roster. Simply click on the group name, and the contact list will be displayed.
Choir Schedule
Mother's Morning Choir Rehearsals
Mom's Choir: – Mom's Choir welcomes any woman who would like to sing with the choir at Mass on Sunday morning, but cannot attend Wednesday evening rehearsals. Mom's Choir meets on Friday mornings from 11:35 a.m. – 12:30 p.m. in Room 8. Babies and children are most welcome to attend Friday morning rehearsals with their moms. Toys and activities are available for them while they enjoy our beautiful music. For more information, please contact Cheryl Koller: 919-362-0414 ext 116.
Contact
Cheryl Koller, 919-362-0414, ext. 116, or .
Loy Britto, Parish Council Liason, .
Choir Recordings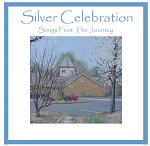 The choir has recorded three compact discs. These CDs can be purchased in the music office for $5 each.
"Silver Celebration, Songs from the Journey" features music from all choirs in St. Andrew's Music Ministry in celebration of the parish's 25th Anniversary.

"Joyful Hope" contains 12 favorite St. Andrew's Choir Christmas season songs. This compilation is sold out.

"All Are Welcome", a collection of spiritual music performed by the 1999 St. Andrew's Adult Choir.
There are limited copies of these recordings available for purchase. If you would like to buy a copy, please contact Cheryl Koller, .