Garden committee members plant and maintain the parish gardens and grounds (other than the lawn). This is a great time for families to work together, and Boy Scouts and teens to earn service hours.
We have some garden tools, but it would be safer to bring your own garden tools, gloves, etc. General maintenance is on a weekly or monthly basis (whatever time can be donated).
Membership
Open to all interested individuals. Professional gardening knowledge and skills are appreciated but not necessary, weekend gardeners welcome!
Meetings
More extensive work is done from 9 AM -12 Noon (unless noted otherwise) on selected Saturdays during the year.
Upcoming 2018 Garden Workdays:
January 13 – 9am-12pm
February 17 – 9am-12pm
March 17 – 9am-12pm
April 14 – 9am-12pm
Pictures from the December Workdays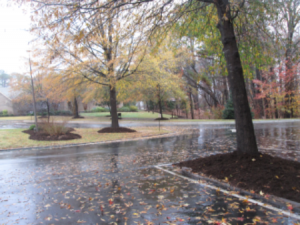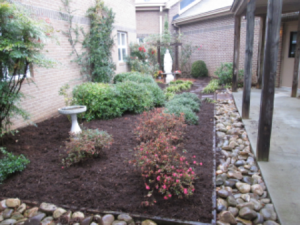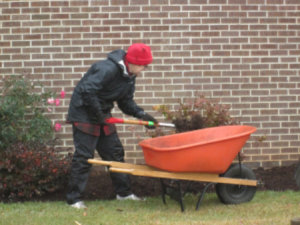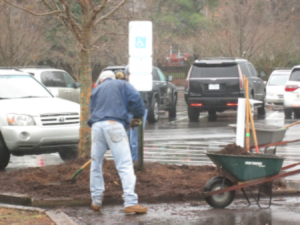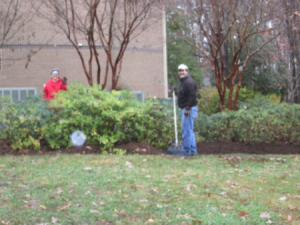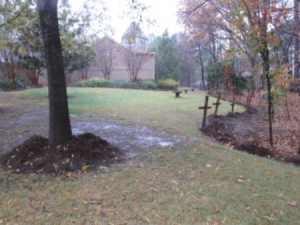 New Plants October 2017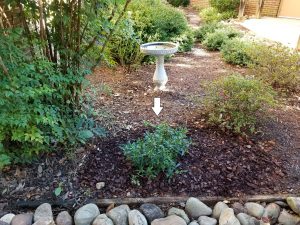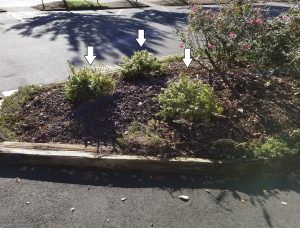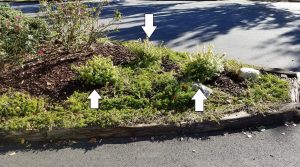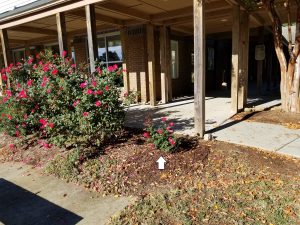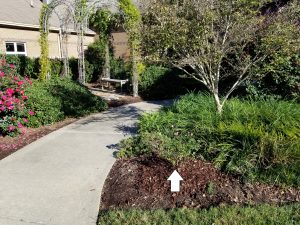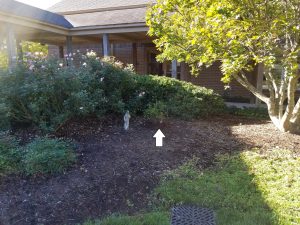 In October 2017 we planted the following:
A new gardenia next to the church in the grotto (top left above), to replace an older gardenia that was failing.
Six Kaleidoscope Abelia in the island in the drop-off area (top middle and top right above), to replace the spirea that were failing.
Added two roses (middle row on left above) on one side and one rose (middle of middle row above) on the other side of the plants in front of the Fellowship Hall.
Replaced a failing rose in the Fountain Courtyard near the pergola with a new rose (middle row on right above).
Added another rose to the group near the Care Center entrance in the Fountain Courtyard (bottom rown on left above).
New plants need regular watering during their first year.
If you can use a garden hose and can spare 30 minutes or more, please contact Christine Brawn, or 919-363-0731.
The Bischoff Garden Endowment Fund
St. Andrew parishioner Mary Ellen Bischoff passed away on March 8, 2006. As a gift to generations to come, Mary Ellen directed the creation of the Mary Ellen and Robert A. Bischoff Garden Fund to maintain and enhance the gardens at St. Andrew Parish. Gifts to this fund will be used to maintain all the garden areas around our church. More info on the Giving Opportunities page.
Contact
Christine Brawn, 919-363-0731,
Cindy Cotton, Parish Council Liaison,