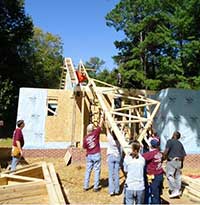 Habitat for Humanity of Wake County develops partnerships to build healthy, affordable homes with and for God's people in need, promotes self-reliance through homeownership, affirms the dignity of the family, and creates sustainable communities.
Habitat for Humanity is a nonprofit, ecumenical Christian organization
dedicated to eliminating substandard housing and homelessness worldwide and to making adequate, affordable shelter a matter of conscience and action.
St. Andrew's is one of seven Catholic parishes participating each year in the Habitat Catholic Coalition Build. This build provides a new home for a qualifying family in the Raleigh area. All St. Andrew's parishioners are invited to donate time working on the house or providing lunches for the Catholic Coalition volunteers.
STAY TUNED FOR MORE INFORMATION ON HOW YOU CAN HELP THIS MISSION! Please consider participating in this wonderful Corporal Work of Mercy, to shelter the homeless!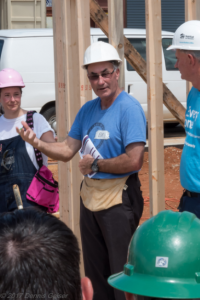 Membership
Open to all who wish to volunteer. No experience is necessary. Families, parish groups, high-schoolers (age 16 and older) are all welcome. We also need help providing lunches for the volunteers. Anyone interested in helping build an affordable home for a family is welcome to help.
Other information
Communications
This ministry doesn't have meetings other than the opportunities to volunteer onsite.  Information is provided by ministry leaders to all those who have expressed interest and provided contact information.
Time Commitment
At the discretion of volunteers. It normally takes 10 weeks to build a home. Volunteers work Thursdays, Fridays, Saturdays from 8:00 a.m.  until 3 or 4 p.m.  Lunches are usually provided Saturdays during the Catholic Coalition build cycle.  All other days, lunch is on your own.
Contact
Gene Fornaro,
Sharon Fornaro, lunch coordinator,
Barb Kocher, Pastoral Council Liaison,