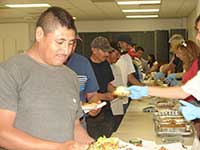 This ministry provides meals and fellowship for laborers in our community during the summer.
Volunteers are needed to prepare food and to help serve the meal, which is about a three hour time commitment.
Location: St. Bernadette's, 1005 Wilbon Rd , Fuquay-Varina
Volunteers needed to set up, serve and clean-up.
The 2018 meal dates will be posted in spring 2018.
Donations:
Hot food should be prepared in disposable foil pans and delivered warm.
Especially in need of meat dishes or other forms of protein.
Other items needed – Bread and Desserts.
For further information or to volunteer contact Dave Keith at (919) 552-8793 or email at
Membership
Open to all individuals, couples and families
Dinners are served at St. Bernadette Church in Fuquay-Varina. All food is prepared beforehand and transported to the church.
Contact
David Keith, (919) 552-8793,
Loy Britto, Parish Council Liaison,