Prison Ministry
About Prison Ministry (Kairos Inside, Women)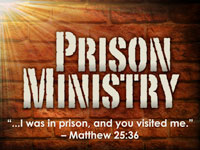 We serve incarcerated women at North Carolina Correctional Institution for Women (NCCIW) through Kairos Prison Ministry. The mission of Kairos is to share the transforming love and forgiveness of Jesus Christ to impact the hearts and lives of incarcerated men, women and youth, as well as their families, to become loving and productive citizens of their community.
Kairos Inside is composed of well-trained volunteer teams of women from the communities surrounding the institution that present an introductory 3-day weekend, described as a short course in Christianity. This interdenominational team of volunteers – both clergy and lay persons – works in cooperation with the Chaplain who carefully selects up to 42 inmate leaders to attend. Well organized follow-up is part of this program.
Click here for more information on Kairos NC.
How Can I Help?
Be a Team Member
Consider serving on a Kairos Inside team. The 3-day weekend typically occurs in the Spring each year with team training starting in January.
Be a Prayer Partner
All Kairos activities are covered with prayer. You can be a part of the prayer effort.
Be a Ministry Financial Donor
All Kairos activities are funded by donations.
Contact
Patrice Newcomb, phone 919-533-3300, email
Jodi Martinez, phone 919-706-583
Mary Gillespie, Parish Council Liaison,