Links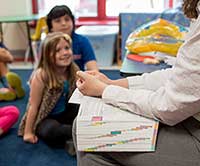 Elementary Faith Development provides a structured, classroom environment for religious education for grades K through 5th grade.
Faith Formation 2018-2019
General Information for 2018-2019 Faith Formation Programs
Faith Formation Registration Form for 2018-2019
Please note for families new to St. Andrew: Welcome! Families must be registered parishioners at St. Andrew in order to enroll in any Faith Formation class (K-12) and the Home Program. New Parishioner Registration Forms may be submitted along with Faith Formation registration.
Click here for directions on how to locate your child's class assignment..
Meetings
Classes meet once per week on the following schedules:
Sunday 9:30 – 10:45 a.m.; 11:15 a.m. – 12:30 p.m.
Monday 5 p.m. – 6 p.m.; 6:30 p.m. – 7:30 p.m.
December Grace Events
Coffee and Donuts – Sunday December 3 & 10 – Fellowship Hall
Join fellow parishioners after all Sunday morning Masses. You may only count Coffee and Donuts one time on your GRACE event form.
Saints and Stories of Christmas – Sunday, December 17, 2:30 p.m. – Church
The St Andrew and Children and Youth Choirs invite you to this special Christmas journey around the world to discover saints and stories of different traditions. * Bring Baby Jesus from your home nativity scene for a special blessing.*
Advent Reconciliation Service – Thursday, December 21, 7:00 p.m. – Church
Children (and others) who have already celebrated this sacrament for the first time may participate in this communal rite of forgiveness and mercy.
Brown Bag Ministry – EVERY Saturday at 9:30 a.m.- Fellowship Hall
Help feed the poor and homeless in our community. Individuals and families may volunteer any Saturday. Canned food donations are welcome but not required.
Membership
Open to children of the parish in grades K through 5th grade. Volunteers are always needed. Confirmed teens or teens preparing for Confirmation may also assist.
GRACE Program at St. Andrew

Everyone in faith formation participates in a program called GRACE that offers opportunities to be with your St. Andrew faith community in liturgy, prayer, service, formation and fellowship.
Cost
$50.00/student/year (registration on or before August deadline)
$70.00/student/year (registration after August deadline)
Maximum registration fee for K – 12th is $150/family when registering by August deadline (sacramental fee excluded)
Contact
Katie Fortunato 919-362-0685 x125, or
Mike Kaufman, Parish Council Liaison,
Catechist Information
Adult volunteers are always needed for both long-term and short-term commitments. A complete background check is required for some volunteers. Most will only need to submit references for checks.
Catechists are expected to participate in ongoing formation. The parish and diocese offer a variety of opportunities to fulfill this requirement.
Catechists are expected to participate in ongoing formation. The parish and diocese offer a variety of opportunities to fulfill this requirement. New! Visit the Catechist Classroom Blog for weekly videos and to share your ideas, comments, questions and suggestions!