First Reconciliation & First Communion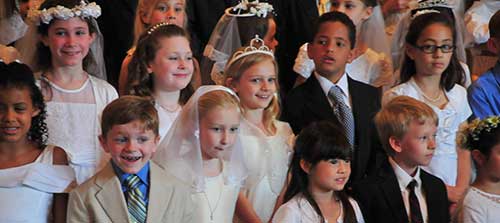 Preparing for a child's first reception of the sacraments is a very special time. We hope this will be a joyful and spiritually enriching experience for your family.
Preparation for First Reconciliation and First Communion is a two year process with the sacraments being received in the second year.
Prerequisites for Sacramental Preparation
Baptism (a copy of the Baptismal certificate is required).
Completion of a full year of faith formation the year immediately prior to sacramental preparation.
Children are not eligible to receive these sacraments before second grade.
The Sacramental Preparation Process
Children enroll in Faith Formation. Classroom and home study programs are available.

Registration information coming soon!

Children must ALSO enroll in sacramental preparation. There is an additional $50 sacramental fee for preparation materials and retreats. Children will be preparing for two sacraments: Reconciliation and Eucharist. Enrollment for sacramental preparation is done at the same time and on the same form as registration for the regular faith formation program.
All parents attend Parent Meeting #1 for each sacrament. At this session, the children's preparation materials will be distributed. The workbooks are completed at home with the family.
Children attend two retreats – one for First Reconciliation and one for First Communion.
Per Diocesan policy, separate parent formation is required for each sacrament. This occurs at Parent Meeting #2. Exemption from this meeting may be granted for a family who has participated in sacramental preparation within the past three years.
Children in Catholic Schools
St. Andrew parishioners who attend Catholic school will receive their regular faith formation at school. Sacramental preparation and reception of the sacraments occur at St. Andrew. Catholic school children will enroll in sacramental preparation through the Faith Formation office.
Older Children
If your child has not been baptized, please contact Katie Fortunato, Director of Elementary Faith Formation, 919-362-0685 x125 or email

Elementary school aged children

will follow the standard two year preparation process and be enrolled in the same grade of faith formation as they are enrolled at school. The sacraments will be received in their second year of faith formation. Because we want our children to be well formed in the faith and have time to develop a relationship with Jesus, there is not an accelerated program for formation or sacramental preparation.
Children who are

middle school age or older

will develop a preparation plan with our Assistant Youth Minister, Donna Shinn, 919-362-0685 x123 or
.
Children with Special Needs
Children of all abilities are welcome in our faith formation programs. We recognize that some children may benefit from a modified environment with more individual support. Our program offers a self-contained classroom for children with special needs. Sacramental preparation is a component of this curriculum. A special First Communion Mass for children with special needs is held each year for children who have participated in two years of faith formation and are ready to receive the Eucharist.
Preparation Resources
First Sacrament Prayers
Children are asked to learn the basic prayers of the Rosary and an Act of Contrition as part of the sacramental preparation process.
First Communion Banner Instructions
First Communicants create a banner as a special commemoration of their First Communion day.
Calendar of Sacramental Preparation Meetings and Liturgies
Contact
Katie Fortunato, Director of Elementary Faith Formation, 919-362-0685 x125 or email