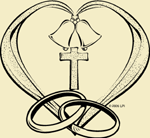 Planning your marriage liturgy is a chance to prepare a deeply religious experience for you, your family and friends. It is our hope that your marriage liturgy, thoughtfully prepared in words, music and gestures, will be a sign to your family and friends of the faith, hope and joy that is ours in Jesus Christ.
St. Andrew's policies and guidelines are designed to help you celebrate this important milestone as a true expression of faith. They will assist you in setting the tone for the celebration of a holy event that is of greatest importance in your lives.
Planning Your Wedding at St. Andrew
To schedule a wedding, contact: Carol Blackford, phone: 919-362-0414, ext. 111, or e-mail:
For wedding planning assistance contact: Cheryl Koller, Interim Director of Music Ministry, at 919-362-0414 ext 116 or
Click here to learn more about serving an a Marriage Preparation Ministry Volunteer.