The Activities Committee promotes involvement in the Parish Family through social interaction.
Announcements
Strawberry Festival
Saturday, April 28 from 2:00-5:00 p.m.
Strawberry shortcake and strawberry ice cream sundaes will be available for purchase. Children's activities! Come celebrate Spring!
This is a Grace Event.  Sponsored by the St. Andrew's Activities Committee.
Membership
Open to all interested members of the parish. We are always seeking fresh ideas and energy from new volunteers who join our group. Just contact one of the chairpersons listed below for further information.
Meetings
Meetings and events are held from August through May. Click on the 2017-2018 Activities Committee Calendar to see an overview of meetings and programs.
Time: 7 p.m.
Place: St. Andrew's Main 7 Conference Room (the large conference room located behind the Fellowship Hall near the staff offices)
When: We typically meet the last Monday of each month. Click on the link to view this month's meetings:
Activities Committee Meetings This Month
GRACE Events
All parish-based faith formation programs are required to participate in "GRACE" (Growing Through Religious and Catechetical Experiences). GRACE events are opportunities to be with your St. Andrew faith community in liturgy, prayer, service, formation and fellowship.
Unless otherwise noted, all Activities programs are GRACE events. Please see our list of Upcoming Events to find a fun program for you and your family!
Committee Members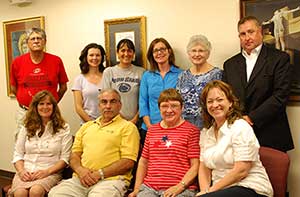 Back row: Tony Gemma, Gail Rolleri, Marisa Cashin, Ruth Robaczewski, Pat Shakal, Pete Cashin
Front row: Susan Ferraro, Rich Adler, Marge Hupf, Amanda Mellenberger
Not pictured: Sylvia Escobar, Elli Gemma, Jo Krzysztow, Frank Krzysztow, Dawn Kuhn, John Kuhn, Jerry Schweitzer, Robert Leonards, Jenette and Bill Carroway, Van Diller and John Diller
Teen Volunteers
If you are in grades 9 through 12 and wish to volunteer for Confirmation service hours, please contact one of our co-presidents listed below. You can also sign up using our Teen Volunteer Sign Up Genius.
Contact
Susan Ferraro, phone: 919-239-2713
Amanda Mellenberger,
Mike Kaufman, Parish Council Liaison,