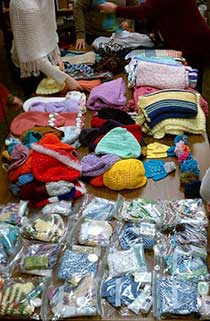 The group knits and crochets hats, scarves, and blankets for less fortunate children and adults. Yarn, needles and instructions are provided when necessary. Donations of yarn, knitting needles and crochet hooks are always accepted.
Membership
All skill levels are welcome. Anyone under the age of 18 must be accompanied by an adult.
Meetings
Meetings are every Tuesday 7 to 8:30 p.m. in the Care Center Parlour.
Contact
Rita Sparano at
Kristin Meyer, Parish Council Liaison,