Professional Development, Mentoring and Networking
The St. Andrew's Career Network Ministry is a group of individuals who are committed to effective career management for themselves and others through knowledge of and expanding connections for immediate or future employment opportunities.
Assist members with:
Networking and business relationships to find work, better jobs, or new employment
Mentoring and a forum for life-long career development
Peer support related to anxiety/depression associated with job loss or career stress
Seeking/discussing the spiritual meaning of God's will with career decisions
Goals:
Have all members employed or self-employed in an enjoyable profession or business with minimum or no periods of unemployment
Provide an agenda that appeals not only to unemployed/underemployed members but also benefits actively-employed parishioners
Increase parish awareness of the current pool of available talent
Meetings
Meets bi-monthly on the 2nd and 4th Thursday mornings of every month from 8:15 to 10:15 am in room 208 of the parish CARE Center.
FINDING MEANINGFUL WORK WITH THE PARISH CAREER NETWORK MINISTRY
Are you in need of a job or interested in finding a more rewarding career? Then please join the St. Andrew  Career Network Ministry (CNM)!  We meet on the 2nd and 4th Thursdays in the Parish CARE Center and our next meeting is Jan. 11th at 8:15 am. NEW and EXCITING beginning Jan. 25 – Parishioners Marnie and Jim Tynen will be leading monthly discussions of Dana Gower and Paul Dean's book, Careering – A Practical and Spiritual Guide. These sessions will be an opportunity for us to share experiences and insights about how to best use our talents to succeed in today's economy. For more information about the book discussions, call Marnie Tynen at 412-855-9730. For more about the CNM visit our website at: http://saintandrewapex.wor dpress.com.
Facebook: Please also visit our St. Andrew's Career Transition Ministry Facebook page.
Volunteers Needed – Share Your Skills
Are you a former or current Sales and Marketing Professional?
Are you a former or current Business Owner?
Do you like helping connect people with opportunities?
Then Please Join Our Career Network Team – Contact Dana or Paul today. Contact information below.
The Careering Movement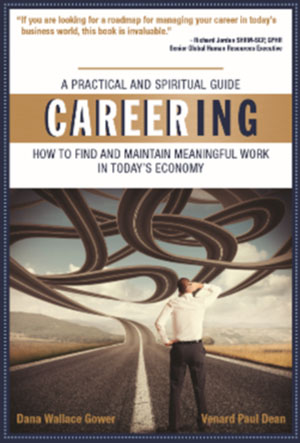 Make a Difference. Please Support Your Career Network Ministry. Help yourself, friend or family member in job search and transition by purchasing copies of "Careering – A Spiritual Guide on Finding and Maintaining Meaningful Work in Today's Economy". Careering will help you:
Overcome job loss and/or conquer any fear or paralysis associated with job or career transitions.
Advance and position yourself for better pay and benefits.
Find new meaning in your work or a new career opportunity that brings you happiness and joy.
Order copies today for yourself, your family, neighbors and colleagues! To order and learn more go to www.careeringbook.com. All net proceeds go to St. Andrews and other charitable organizations supporting the unemployed and underemployed.
Like us on Facebook at www.facebook.com/careeringbook.
Contact
Paul Dean (Founding Director) 919-389-7855, Dana Gower (Co-Director) 919-961-4939, or
Loy Britto (Parish Council Liaison),
"I tell you the truth, whatever you did for one of the least of these brothers of mine, you did for me."
Matthew 25:40